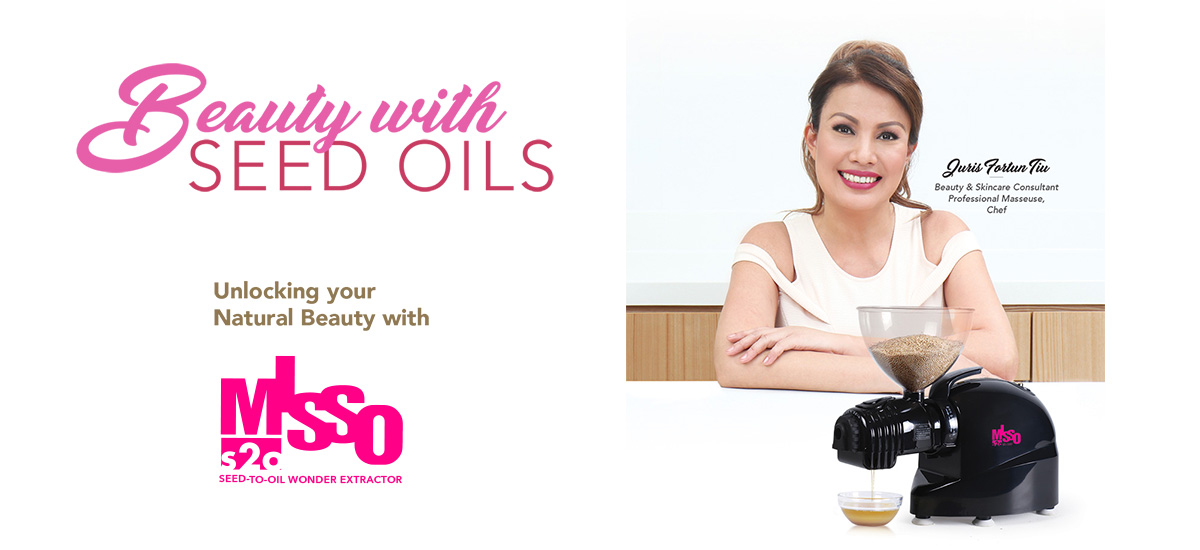 Misso S2O Seed-To-Oil Wonder Extractor extracts 100% Natural Oil for beauty, wellness, and flavor. It is the key to unlocking the secrets of natural seed oil. Secrets that beauty and health experts have known for years is now within your reach.
Ancient beauties like Cleopatra and Nefertiti have long discovered the use of natural oils to maintain their allure and youthful glow, and now it is your turn to unlock its secrets with MISSO S2O.
With the MISSO s2o Wonder Extractor you're creating the best quality of oil that you can't find anywhere else.
Powerful 40-torque motor
Oil Extractor (OE) Head with Heating Element
Hopper: 1kg seed capacity
Stainless Steel Screw
Running Time Limit: 20 minutes (for continuous use)
Pre-heating time: 5 minutes
630 watts
220-240 volts
60 hertz
Weight: 8.5kg
Product Dimension: 15x12x7 (in)
12months Repair Guarantee
Spanner
Cleaning Knife
Cleaning Brush
User Manual
As an advocate of natural skin care, I love how I am in full control of what I put on my skin especially at my age. With MISSO s2o, I extract my own fresh, natural chia, sesame or flaxseed oil for my daily use. Now, I look 10 years younger!"
As part of an NGO, I go for long walks under direct sunlight & harsh environments. My skin became sensitive & it was really hard to find the right skincare products. Guess, I was looking at the wrong places. Now, with MISSO s2o, I extract my own natural moisturizer & sunscreen… sesame oil! My skin has never been this better!"
Last May, I suffered from 'tinea manuum', a fungal infection. On the 2nd day after I applied unroasted sesame oil on the affected areas, the redness & itchiness had considerably reduced!
My son had prickly heat rash (bungang araw) during the summer. The medication prescribed did not work. However, after I applied unroasted white sesame oil on his back, I noticed that the rashes had faded and almost gone the next day!
The skin on my hands were chapped and were extremely dry. Moisturizers did not work. But, after a week of using seed oil on my hands, the skin were healed and became smooth. Really worked wonders!
My problem with pimples started when I transferred here in Manila for work. Maybe because of stress and my exposure to pollution during commutes made it worse.

I had been trying many facial scrubs, creams for acne but with no effective results. Then, I tried applying 100% natural chia seed oil on my face and dabbing more on the heavily affected areas. After 3 days of adding chia oil on my night beauty regimens, this was the result!